South of England: (Ages 10-11) Scarlett Pugsley
School: Courthouse Junior School, Maidenhead.
Teacher: Trician Stevenson
Thank you for taking the time and touble to enter your class and for attending our prizegiving event event at the House of Lords.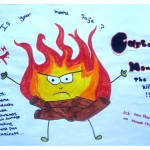 Click on the image to view.
Photo opposite: Theresa May MP with Scarlett Pugsley
Member of Parliament for Maidenhead.
Now also Home Secretary and Minister for Women and Equalities.
Winners of the Pilot Project
As it was our 15th anniversary we thought it was the perfect time to present prizes to those who had done really well in our pilot project brilliantly run by Heather Tomlinson, teacher and mother of Edward Tomlinson, who died of CO poisoning.
Photo of the winners with some of our sponsors.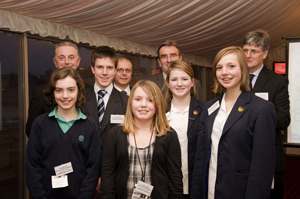 Photo of Stephanie Trotter with Heather and Howard Tomlinson who are presenting CO-Gas Safety with a cheque for £1,000.